"It feels like the phone jumped into my hand automatically."
Xiao Zhang, a junior high school student in Shantou, Guangdong, China, said this when he described that he could not help picking up his mobile phone to play games during online classes.
Due to the prevalence of new coronary pneumonia. China's primary, secondary schools and universities need to be unable to carry out teaching, and online teaching has become popular. According to QuestMobile data, after the Spring Festival holiday, due to the increase in demand for remote office and learning, the average length of use of the Internet per capita in China has further increased After 30 minutes, it soared to 7.3 hours, and it was about to break the 8-hour working system mark!
One week after the Spring Festival, the demand for remote office and online learning increased significantly. The average daily active users in the efficiency office field rose by nearly 40 million, K12 rose by more than 20 million. The stock market opened on February 3, and the stock trading industry also ushered in growth.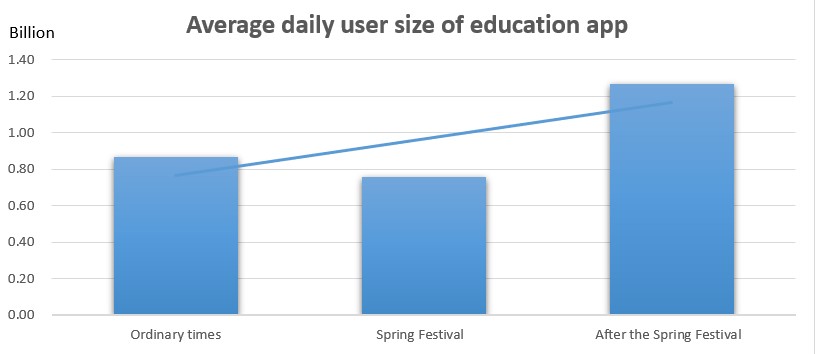 Although online teaching may have a broad future, most people are not very comfortable with this sudden change. Students hate this kind of teaching method, saying that it increases the burden on their eyes and also allows teachers to arrange more homework makes the monotonous life more unfree. Hundreds of millions of students rushed into the software store and gave a bad review to teaching apps.
A student said in the user store: "The teacher wants to punch cards every day and has a lot of homework. I only took four classes a day, but was assigned nine Assignments for each subject."
Apple, Huawei, Xiaomi and other mobile phone manufacturers have to adjust the rules of the software store and rigidly control the scores to prevent these teaching software from being removed due to massive negative reviews. Companies such as Dingding also publish entertainment video on social media platforms commonly used by teenagers, beg teenagers not to give bad reviews.
In addition, online teaching also poses challenges to educational equity. Children in some poverty-stricken areas are suffering because they do not have money to buy mobile phones, or because the network environment is poor.
In Dengzhou, Henan, China, a girl who is about to take a high school test because of poverty in her family needs three people to take turns taking classes. She can't keep up with the progress of her teacher and finally commits suicide .
The learning environment of some children with poor environment at home cannot be guaranteed. Ke Enya, of Yuyangguan Town, Yichang City, Hubei Province, was photographed by reporters while studying online classes at her mother's braised pork stall, which caused a heated discussion on the Internet.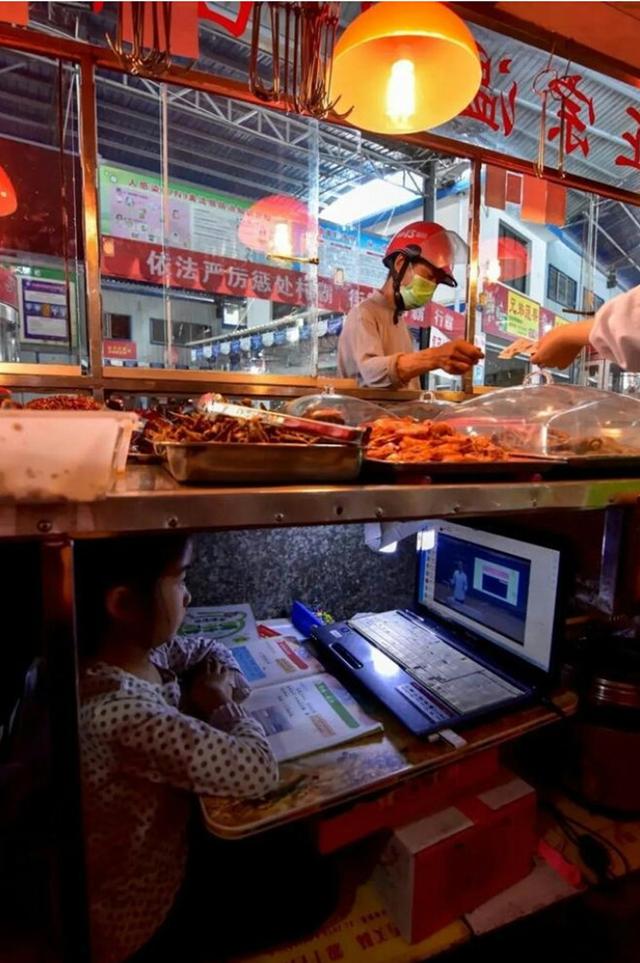 Not only do children dislike online teaching, many parents also expressed the hope that they can resume offline teaching as soon as possible. Parents and children are unprecedentedly longer because their children are online at home, but parents are not happy about the usual parent-child time, because parents also need to work from home, and now because of this "suddenly sweet" In addition, time and energy have to be allocated to take care of naughty children. Many parents say that the quality of life has seriously deteriorated due to the surge in parent-child conflicts. Many parents have suffered from insomnia.
Chinese parents have invented a new online buzzword: "Mythical Beast", which means that children are the most difficult "pets" they have ever raised, and they are extremely destructive and can't be parried. Mr. Han, the parent of a primary school student, said: "I now look forward to the school starting sooner than my son."
This is not good news for students and teachers who are facing high school entrance examinations in the third and third grades. How to use their self-control to resist the drag, distraction, and adapt to the rhythm of online teaching is to students. As a challenge, Teacher Yang, the head teacher of the third grade, said that he was the head teacher of the preparatory class because he was worried about the students and had recently experienced hair loss.
A few teachers have a positive attitude towards online teaching. Teacher Chen, a university major in media communication, said that due to the nature of the media discipline, online teaching gives students the opportunity to access more learning materials and use learning time more flexibly For self-study and group cooperation, the performance of students this year is much better than in previous years. They also have a lot of reflection on the previous teaching. Online teaching is a good opportunity to improve the teaching level.
"Many students feel uncomfortable with this sudden transformation." said Mr. Qiu, who is responsible for the training of studying abroad in English.
" Compared with the TOEFL and IELTS essays uploaded by students in the winter of 19, the scores of recently uploaded essays have dropped a lot. At that time, articles with an IELTS score of 8 or more and a TOEFL full score or near full score often appeared. Now TOEFL 25+ and IELTS 7+ The composition is rare. It seems that it is difficult to learn solid knowledge without returning to school to resume normal classes."
China is a big country for international students, and the trade war between China and the United States has cast a shadow over studying abroad in the past few years, and the international spread of the epidemic has worsened this. Many schools have canceled the professional and research of the number of dissatisfied students. project. Miss Wu originally applied for a graduate program at the University of Leeds, but the project was cancelled because of the epidemic.
Students who have applied to foreign universities have also indicated that if the school conducts online courses, it is hoped that the school will be able to reduce some of the existing high international student tuition fees. A girl who applied to the University of Cambridge this year said: "I am willing to pay a high tuition fee to the UK, a large part of it is to feel the British culture, and the academic exchanges between tutors and students, but online courses make it vanish like soap bubbles."
Despite these shortcomings, one thing can be confirmed, due to the spread of the epidemic in the world, more countries and regions will choose to suspend offline courses and switch to online courses in the future. Both teachers and students must respond to and adapt to the line. After the outbreak, the current education model will also have a profound impact.